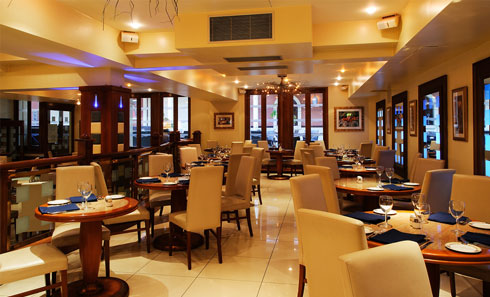 Tiggis St Annes
Our Blog
outside Catering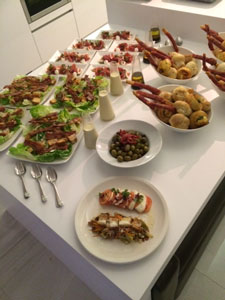 We have started offering an outside catering service bringing over 30 years of experience in food and service to you at your home or work place, be a formal seated dinner to working lunches, a selection of freshly prepared quirky canapés or full buffet designed to your needs.
Follow @Tiggisstannes

Home cured Salmon
One of our most popular starters on the christmas menu this year is a home cured salmon with fennel shavings, beetroot, capers and a dill mayonnaise.
To cure the salmon you will need:-
500g of rock salt
500g of sugar
Parsley
Dill
pink peppercorns
lemon zest
To cure the salmon spread the mix onto a prepared side of salmon on the flesh side with and sprinkle of whisky and lemon juice, cover and refrigerate for 24 hours in a container that will hold water. Turn over and use the any left over mix and cover the skin side of the salmon, cover and again refrigerate for another 24 hours. If you have a tail end of salmon, cut this off and add more mix the the thicker side for another 24 hours to make sure the salmon is fully cooked. Then thinly slice and serve as with have or just simply with lemon juice. #home-cured-salmon #smokedsalmonstarter #christmasstarters #christmasinthefylde
Follow @Tiggisstannes

Sicilian style Risotto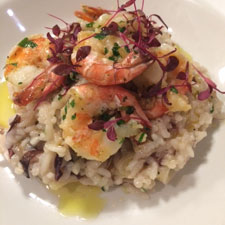 This is one of the specials we have had on for the last couple of weeks and it has been selling really well. It's a Sicilian style risotto using ingredients typically used in Sicily. The risotto has radicchio lettuce cream and mascarpone in and is topped with Tiger prawns pan-fried in garlic, white wine and lemon juice. #seafoodrisottos #sicilianstylerisotto #ridicchiolettuce #Tigerprawns Follow @Tiggisstannes

Our home made desserts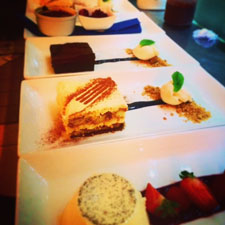 We have starting making most of our desserts in the restaurant. These are some of what we have been doing, Vanilla panacotta, Tiramisu, Chocolate Brownie and Creme Brulee. #freshlymadedesserts #homemadedesserts #italiandesserts #panacotta #tiramisu #chocolatebrownie #cremebrulee Follow @Tiggisstannes

pizza carbonara
One of our specials very popular last week, pizza carbonara with our fresh home made dough, a runny egg, bacon, mozzeralla, black pepper & fresh parsley . #freshpizza #homemadepizza #italianpizza #carbonara #tiggis-stannes #lytham-stannes Follow @Tiggisstannes

Crab bisque with ricotta tortellini
One of our specials from last week that sold really well and our chef thought he would let you into the secret of how it is made. First you roast crab shells at 180 degree c for untill they are slightly brown and crispy.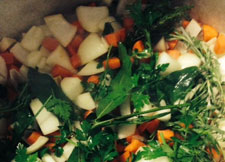 Next you brown roughly chopped vegetables in butter with rosemary, parsley, garlic and roasted tomatoes.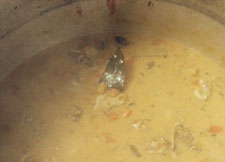 Add the shells to the vegetables and add white wine and brandy, cover with water and gently simmer for 20 minutes. Add a little cream and thicken with equal amounts of flour and butter mixed together, put a small amount at a time and stir, cook for 10 minutes to thicken.
Season with salt and pepper, add lemon juice to taste and then pass through a fine sieve. It's great with some warm crunchy bread or as we have been serving it at Tiggis with fresh tortellini, tiger prawns and creme fraiche
#freshpasta #homemadeitaliancooking #italianfood #crabbisque #tiggis-stannes #lytham-stannes #tortellini #howtomakecrabbisque
For more information on the restaurant you can follow us on twitter Follow @Tiggisstannes

Mallard with mixed vegetables and a red wine sauce
There are a few stages to this dish so as before we have listed them with the pictures to match.At Tiggis we try to buy as much as we can from local suppliers so our birds from Lanigans of #Lytham, a good size with little shot damage. Take the breast and legs from the bird, yo can ask your butcher / fishmonger to do this for you.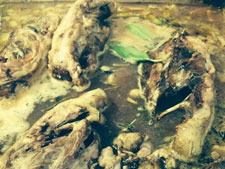 Brown your mire - poix of cekery, onions, carrots, thyme, rosemary, juniper and garlic. Roast your duck carcasses untill brown then add to the mire-poix, add the red wine and chicken stock and gently simmer for 2 hours.


Brown the mallard legs in a little oil with seasoning, add rosemary and thyme and cover with goose or duck fat, cook until tender, 2 hours approx.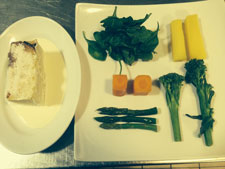 Prepare your vegetables, we are serving dauphinaise potatoes, sprouting brocoli, swede, spinach, carrots and spanish asparagus.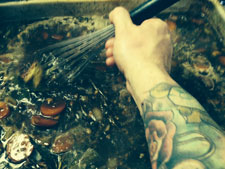 When your stock is flavoursome, thicken with equal parts of flour and butter and pass through a fine chinoire.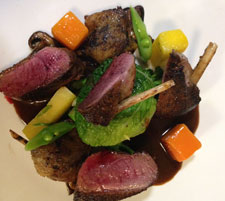 When you are ready to serve, your potatoes are hot as are your vegetables, legs and sauce. In a hot pan, saute each breast depending on size for 3-5 minutes, until medium rare, rest for at least 3 minutes in a warm place, then carve and then assemble the dish.
#freshgame #homemadeitaliancooking #italianfood #mallard #tiggis-stannes #lytham-stannes #howtocokgamebirds
For more information on the restaurant you can follow us on twitter Follow @Tiggisstannes